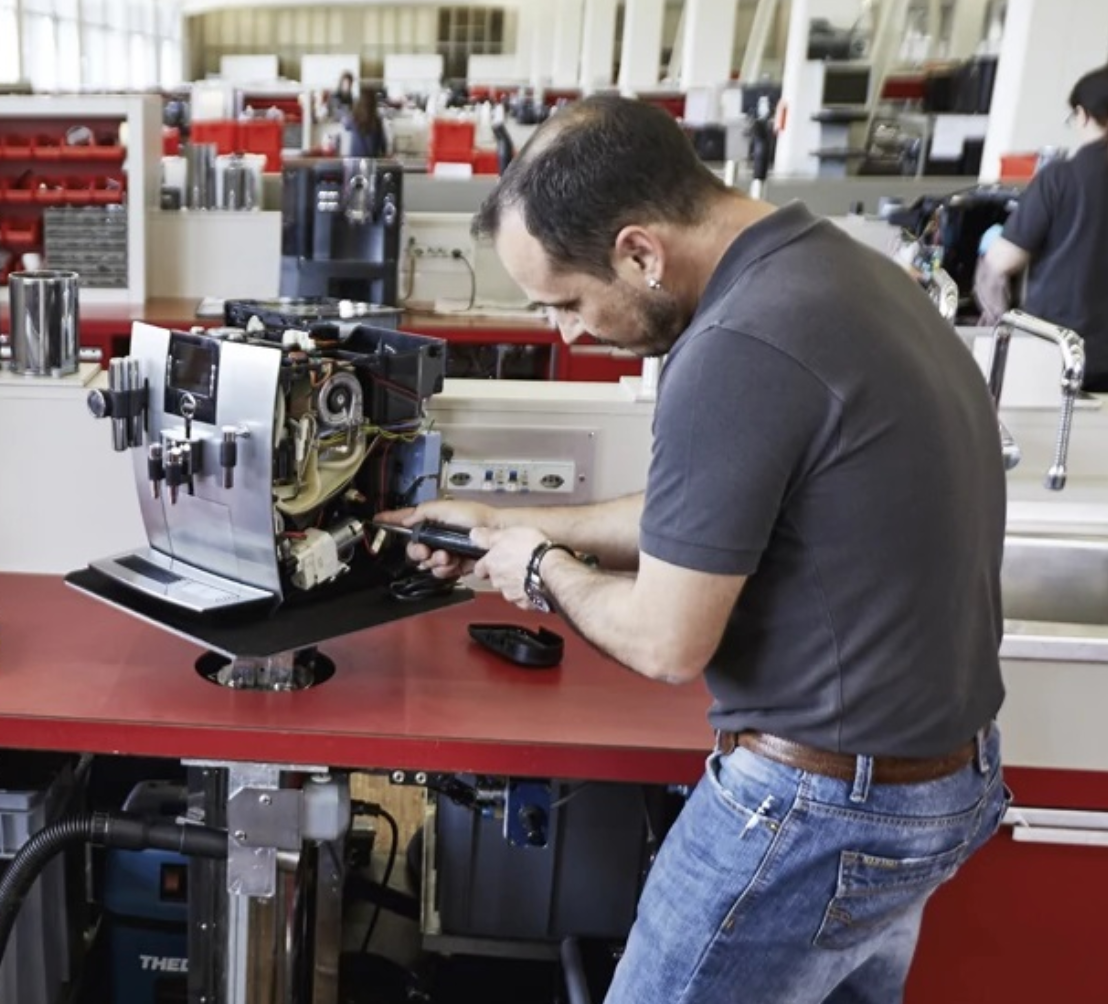 Get Your JURA Coffee Machine Professionally Repaired
Over 18 years of unmatched experience. We specialize in repairing JURA super automatic coffee machines. We do not repair any other brand.
DOWNLOAD REPAIR FORM
JURA Repair Services
Everything you need to know to get your JURA coffee machine professionally repaired. Details include how to properly pack and ship your machine, repair cost breakdown, repair turnaround time and after repair warranty.
Each JURA coffee machine is comprehensively inspected upon arrival at our service center. Our technicians diagnose the malfunction and share the repair estimate via email or text message. Based on the number of cups made, a technician may suggest replacing frequently replaced parts such as complete brew unit and grinder blades to help improve the coffee quality and extend the life of your machine.
JURA Repair Service Overview
What Models Do We Repair

Below is a complete list of JURA models we repair. Model number starts with a letter followed by a number. It is always printed on the front coffee dispensing spout.

C5, C9, C60, C65

E8, E9

ENA 8, ENA 9

F7, F8, F50

J6, J9, J80, J9

GIGA 5, GIGA 6, GIGA X7, GIGA W3

S8

Z6, Z7, Z8, Z9
Repair Turnaround Time

As of January 7th, 2023, estimated repair turnaround time is 20 business days from the delivery date. In some cases it takes a bit longer due to part availability or delay in approving the repair estimate.
Average Repair Cost

We charge $300 flat labor rate plus parts and return shipping to repair each JURA machine. We install genuine OEM parts in all JURA coffee machines that we repair.

Flat labor rate for all JURA home models starts from $300. Models include C9, C60, C65, D6, E8, ENA 8, F7, F8, J6, J9, J80, J90, Z6, Z7, Z8 and Z9.

Flat labor rate for JURA professional models is $350.  Models include GIGA 5, GIGA 6, GIGA X7, GIGA W3 XJ9, and WE8.

For example, if you sent your JURA home model for repairs that require spare parts of $150 value then your total cost will be $450 plus return shipping via FedEx Ground.


Average repair cost ranges from $450 to $695 depending on the condition of the machine.
How to Properly Pack Your JURA Machine

When sending the JURA coffee machine for repairs, please use a sturdy double wall cardboard box. The box could be of size 18X18x18 or 20X20x20.  For example, J, S, and Z line JURA coffee machines fit nicely in the 20x20x20 box.  Please follow the instructions below to properly pack your machine:

1. Remove the drip tray, used coffee bin, and the drawer.  Also, remove the water tank.  You do not need to ship these parts for repairs.

2. Wrap the coffee machine with at least 3 inches of bubble wrap. Place your machine in the center of the box. Ensure that it does not contact the inside walls of the box and that there is 3 inches of gap between the inner wall of the box and your coffee machine.

3. Place added padding or bubble wrap in between the gaps to protect the machine from any damage to the exterior casing during transit.

4. Tape up the box and take it to the neared UPS or FedEx store. Insure the machine if necessary to prevent from any damages in transit.

5. If you are unable to pack the machine yourself, you may take your machine to the nearest UPS or FedEx store and have them pack it for you
professionally.

6. Alternately, we can ship you the box the manufacturer's molded packing so you can easily slide your machine into the box within one minute.  We offer a double walled shipping box with molded packing so you can safely ship your JURA coffee machine to us for repairs.  You will pay a discounted rate so we can ship the box to you.  Email us the completed repair form to request
a shipping box.
Where to ship your JURA coffee machine

Please ship your JURA  coffee machine using FedEx or UPS Ground to the following address for repairs.  Insure the machine before shipping as necessary.  Please note that we are not responsible for any damage to the machine in transit to our repair facility.  Email the tracking number after shipping the machine so we can add it to our incoming machines repair log.  It helps us with the repair turnaround time.
30 Days Limited Warranty

30 days limited warranty on labor and parts installed during repairs.  Electrical parts such as thermoblock, pump, power board, CPU, transformer, and grinder assembly are excluded from the warranty as any of these electrical components can be damaged due to power surge.  Customer is responsible for shipping the machine to us for in-warranty repair.

We strive to repair Jura coffee machine to ensure it makes coffee like a new machine.  We replace essential parts such as complete brew unit and grinder blades in almost all coffee machines we repair as both are central components for brewing robust coffee.  Other commonly replaced parts such as thermoblock, brew unit motor, solenoid valve, multi-way valve, water pump and membrane regulator tend to falter sporadically.  If these parts function normally at the time of repair, we do not suggest replacing them.  However, with any aging appliance, these parts can stop working due to age and use.  It may happen in warranty or after 30 days of repairs.  We cannot foresee when any of the aforementioned parts will stop working.

Should the new issue arise in 30 days warranty period, we will gladly replace the part.  Customer
is responsible for cost of part and shipping. We will waive the labor cost for in-warranty repair.  After 30 days, customer is responsible for cost of part, $100 flat labor rate and shipping cost up to one year.
What is included in the Flat Labor Rate
Brew Unit Cleaning and Refurbishment

Brew unit is the most important component in all JURA machines. From tamping freshly ground coffee to brewing espresso/coffee, all essential brewing functions are carried out by the brew unit. Overtime, the brew unit gaskets and o-rings wear out and need to be replaced. We clean/refurbish/sanitize the brew unit in each machine we repair.

Coffee Grinder Cleaning

Cleaning the coffee grinding chamber is equally as important as
rebuilding and cleaning the brew group. Over time, the blunted grinder blades grind uneven ground coffee that causes channeling resulting in poorly extracted coffee. We clean out the grinding chamber and replace grinder blades when necessary to ensure your JURA makes robust coffee like a new machine.

Decalcifying the Water Circuit

Despite using Clearyl filter, calcium or limescale in water can accumulate inside the water joints and thermoblock(s). This can cause
partial blockages/leakages resulting in errors such as SYSTEM FILL. We
properly descale the machine to clean water lines that slightly improves hot water temperature.